Fagus moulded beech is a moulded laminated timber (similar to glulam) made out of Swiss beechwood. The aesthetically and technically very high-quality construction timber is manufactured by Fagus Suisse SA in as specially-developed, highly automated production plant in Les Breuleux in the Jura. Battens of 40×40 mm (finished size) are dovetailed together to form long bars and glued to make high-strength panels and beams. Thanks to its high strength, very thin supporting structures can be produced from moulded beech, which can be used where softwood reaches its static limits. The noble solid wood look of moulded beech makes the construction a distinctive design element of the interior.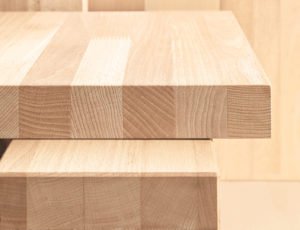 Moulded beech available as panel and as beams
Moulded beech in timber framing
Fields of application for moulded beech
Application in linear supporting structures as columns, girders, beams
High-performance trusses with slim cross sectional dimension.
Also available as hybrid components beech/spruce
Flat structures glulam ceilings and laminated timber ceilings
Advantages of Fagus moulded beech
Solid wood products with natural solid wood look, invisible glue joints
homogeneous appearance on all sides thanks to moulded beam technology and butt offsets
Finger joint in the beam; with controlled joint offset for high strength up to GL48
low adhesive content (approx. 1.5 weight-%) due to lamella thickness of 40 mm
good-natured shrinkage/swelling behaviour in the event of exposure to moisture during installation
Swiss wood from sustainable forest management, use of customer wood possible
100% Swiss added value from the forest to the construction site
short transport distances, low energy and CO2 Footprint
Dimensions and strength classes of the laminated timber beams:
80, 100, 120, 140, 160, 200, 240, 280 mm (larger widths possible with block glueing)
80, 120, 160, 200, … 1240 mm
< 13,50 m Standard length ex Fagus works; >13.50 m glulam production in Lungern
Dimensions of blockboards:
The neue Holzbau AG has the most modern and versatile timber framing technology. The multi-machine concept allows us to use the optimum system for each component.
We provide you with support during assembly and accompany you during installation. State-of-the-art CAD/CNC technology and ingenious, easy-to-install GSA plug-in connections enable efficient erection.
Moulded beech & GSA-Technology
Moulded beech is a sustainable high-performance construction timber with a very high load-bearing capacity and an incomparable solid wood look. With GSA-Technology, optimal generation of joints is available.
Advantages with GSA-Technology
Standardised System
High degree of production
Aesthetics
Fire protection
Efficient assembly
More efficiency and profitability
The combination of moulded beech and GSA-Technology enables slim truss constructions with large spans, which at the same time meet the highest optical standards. The high quality and noble solid wood look without visible glue joints of moulded beech combined with the non-visible connecting elements create aesthetics previously unknown in timber construction. The economical use of material – moulded beech has a very low adhesive content – and the efficient production ensure economical designs with an excellent ecological balance.
Links / documents
Fagus moulded beech design values and product range (german)
Product description/tender specification text Fagus moulded beech (german)